DECEMBER 2019 – SALES PROGRAM OVERVIEW
It's not too late to take advantage of the Winter Clearout and get yourself into a 2019 or 2020 GM vehicle this December just in time for the holidays! 
For December we are offering 0% for up to 72 months on a ton of 2019's and up to 25% off MSRP on select inventory as well! Want to start off the new year in a 2020 GM vehicle? No problem at all! The stellar lease rates from last month continue into this month for some 2020 models, and you can even get up to 10% off MSRP on 2020 Full-Size SUVs. OH! and have you seen the Buick deals this month? 0% up to 84 months, say what!?
You'll need your snow boots to browse the inventory in our lot, but we live in Canada, a little snow never scared any Canadian we know!
Bring on the holidays early and take advantage of 0% for up to 72 months + $7,000 Total Value on RST/Elevation!
The November lease rates continue into December if you would prefer to get into a 2020 Sierra or Silverado
Lease a 2020 Chevrolet Silverado LT Trail Boss for $360.73 bi-weekly plus tax for 24 months!*
Prefer a more heavy duty truck?
Get into a 2019 Silverado/Sierra HD for 0% up to 72 months!
Finance one and recieve an additional credit of $5,400!
Prefer something a little smaller, but still capable of towing and off roading? Meet the Colorado and Canyon!
Get into a Colorado or Canyon this month for 0% up to 72 months + $1,250 in addition credits!
Get into a Full Size 2019 SUV with 15% of MSRP in cash purchase credits!
Own a Full Size SUV already? Well then we will give you an additional $2,000 towards a new one!
Prefer a 2020 over a 2019? No problem! Get up to 10% of MSRP cash purchase credits on those too!
The Encore, Envision and Enclave are ready for your driveway this holiday season!
Get into a 2019 Encore, Envision or Enclave with up to 15% of MSRP cash credits or 0% for 84 months!
Lease a 2019 Encore FWD Sport Touring for 48 months for $179.80 bi-weekly plus tax!*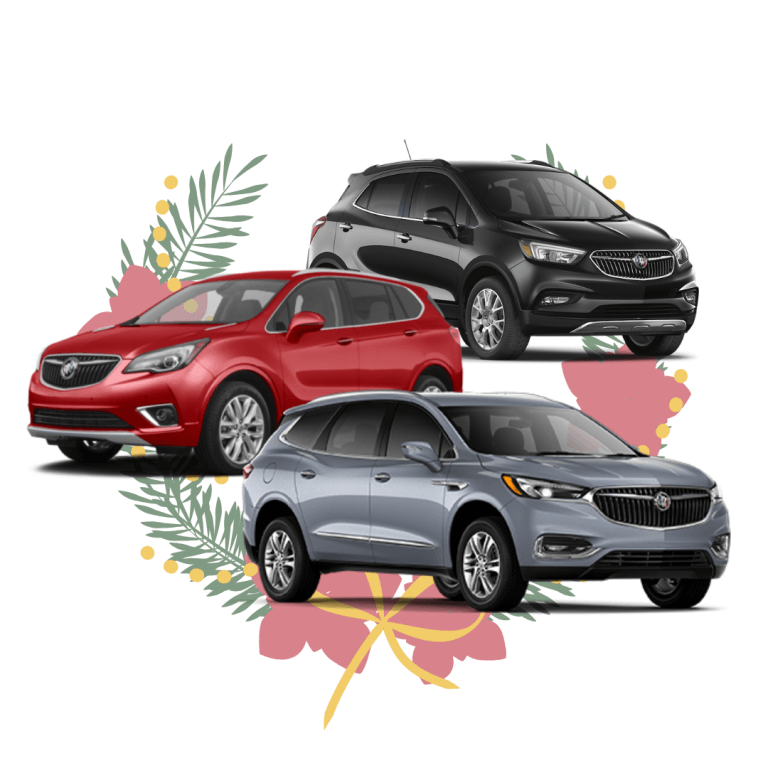 How about an SUV?
Get into a 2019 Chevrolet Blazer or Traverse for 0% up to 60 months!
Finance a 2019 Blazer and recieve $1,000 in finance cash
Would a mid size SUV suit your driving needs? Well then we have good news for you!
Lease a 2020 Equinox LT for 48 months for $204.95/bi-weekly plus tax!*
Prefer a Terrain? Lease a 2020 Terrain SLE for $214.79/bi-weekly plus tax!*
Last but not least, the Chevrolet Spark!
Lease, finance or pay cash for a 2019/2020 Chevrolet Spark and receive a set of snow tires at no charge!
Also,  finance a 2019 Spark for 0% financing up to 60 months plus an additional $1,000 credit!
*Disclaimer: Finance and Lease offers on approved credit. Regional offers, lease and finance conditions apply | New 2020 Chevrolet Silverado 1500 Crew Cab LT Trail Boss Lease for $360.73/bi-weekly plus tax for 24 months at 1.9%. 20000 kilometres per year. Stock#: 15098. MSRP: $67,238 | 2019 Encore Sport Touring Lease for $179.80/bi-weekly plus tax for 48 months at 0.5%. 20000 kilometres per year. Stock#: 14559. MSRP: $31,890 | 2020 Equinox LT for $204.95/bi-weekly plus tax for 48 months at 1.0%. 20000 kms per year. Stock #:15063. MSRP: $37,963 | 2020 Terrain SLE for $214.79/bi-weekly plus tax for 48 months at 1.0%. 20000 kms per year. Stock #:14983. MSRP: $40,503 | First Payment + Tax, License and Fee's Due at Signing. On Approved Credit *Photos are for illustration purposes only