Model Research at Ernie Dean Chevrolet Buick GMC
By housing all three brands of GMC, Chevrolet and Buick here at Ernie Dean, we have a huge variety of trucks, crossover/SUVs and cars for you to explore. Our new and used inventory is deep with all of these models, providing you with a healthy amount of options to pick for your next vehicle! Read on below and take a look through all of the models we have available, from GMC to Chevrolet to Buick, learn more through our research pages, view their inventory and build & price your own!
GMC Canyon
The GMC Canyon is a small pickup, but never lacks in power and efficiency. Don't compromise and explore with the versatile utility of this Canyon truck!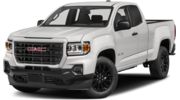 GMC Sierra 1500
Take on the world with power and efficiency, and in a luxurious design both inside and out in the Sierra 1500. This mid-size light duty pickup is a comprehensive truck for the modern driver.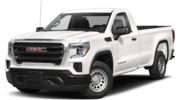 GMC Sierra Heavy Duty
For the toughest of jobs, the GMC Sierra Heavy Duty line is full of the professional grade trucks you've been waiting for, whether it's for tough tasks on a worksite or off-road.
GMC Hummer EV
The first-ever GMC Hummer EV is incredibly capable in pickup form, blending exceptional performance and incredible efficiency.
Chevrolet Colorado
The Chevrolet Colorado is a mid-size pickup that's almost a full-size truck, but still with a ton of capability. Powerful, technologically-advanced and uniquely styled, it's a bold option for all of your truck needs.
Chevrolet Silverado 1500
Durable and ready for any adventure, the Chevrolet Silverado 1500 is a tough pickup, all the way from its high-strength steel frame to its versatile cargo bed.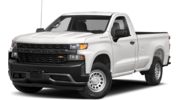 Chevrolet Silverado HD
When tough work is demanded, the Chevrolet Silverado HD is more than up for the task. From towing to hauling, this innovative pickup is led ahead by its heavy duty powertrain.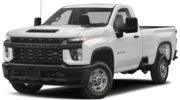 GMC Terrain
The GMC Terrain is a compact SUV that's fit to be your perfect option in the city, but easily transitions into the country. It's luxurious and matched with the latest technology, offering a refined drive.
GMC Acadia
Coming in as your mid-size GMC SUV option, the Acadia specializes in versatility, from passenger seating to cargo capacity.
GMC Yukon
Big and bold, the GMC Yukon is your full-size GMC SUV option. Presenting a gorgeous design that houses all of its utility and advanced features, it's an exquisite piece of capable luxury.
GMC Hummer EV
The first-ever GMC Hummer EV is versatile in its SUV form, loaded with a variety of storage options and the latest tech. Efficient and high-performing, it's a dynamic SUV through and through.
Chevrolet Trax
The Chevrolet Trax isn't your ordinary SUV, born and bred for life in the city, providing exceptional agility, peppy power and a host of technology and safety features.
Chevrolet Trailblazer
Living up to its name, the Chevrolet Trailblazer is fit to create a new path in the SUV segment with its bold style that mixes in enough technology and performance to succeed on any road.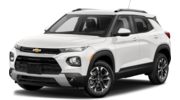 Chevrolet Equinox
Technology-minded and with a wide range of advanced safety features, the Chevrolet Equinox offers a fun and safe ride on every journey.
Chevrolet Traverse
Whether it's a road trip, or just day-to-day commuting and errand-running, the Chevrolet Traverse is the perfect midsize SUV for the entire family.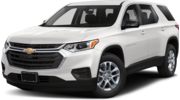 Chevrolet Blazer
A unique design from the Chevrolet Blazer will have every onlooker's head on a swivel, thanks to its dynamic build that houses terrific performance capability inside.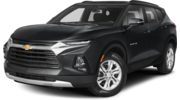 Chevrolet Tahoe
Do you like your SUVs bold? Few come bigger and better than the Chevrolet Tahoe, inviting you in to a spacious interior that's luxurious for both driver and passengers.
Chevrolet Suburban
The iconic Suburban looks better than ever in its latest model year, providing a comfortable ride for every passenger, easy handling for the driver, and all in its classic can't-miss design.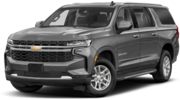 Buick Encore
The Buick Encore is a 5-person SUV that envelops them in a stylish vehicle, expertly balancing both performance and technology features.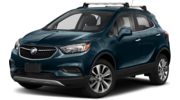 Buick Encore GX
If you love the Buick Encore but want a little bit more size and spaciousness, for passengers and cargo, take a look at this Encore GX.
Buick Envision
The all-new Buick Envision presents the typical refined Buick experience you love, with an incredible mix of style, performance and tech to master the demands of everyday driving.
Buick Enclave
Buick offers a sophisticated ride each time you set foot inside, and the Enclave is the perfect example of this elegance. From luxury touches to advanced tech, it's a modern marvel.
Chevrolet Spark
Invite an extra dose of fun into your driving experience thanks to the Chevrolet Spark! From tight handling to fitting into the tightest of parking spots, it's the perfect city car.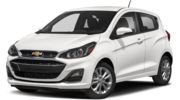 Chevrolet Malibu
Sit back in sophisticated elegance inside the Chevrolet Malibu. Perfectly appointed on the outside and sumptuous on the inside, it's an unforgettable ride each time you get behind the wheel.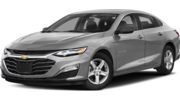 Chevrolet Camaro
Be the talk of any road you're on when you're handling this iconic Chevrolet Camaro. From subtle handling to its sport performance ability, this unmistakable classic makes its mark for a new generation.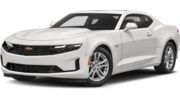 Chevrolet Corvette
The Corvette is what we all think about when someone mentions a sports car. Dynamic, thrilling and fierce, see for yourself the uncompromising performance laying wait in the Chevrolet Corvette.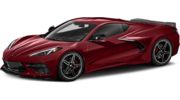 Have a question about any of the models above, or are you ready to shop for one you've truly fallen in love with? Either way, please don't hesitate to contact us, as our sales team is always happy to educate or assist in your buying journey. If you want to feel the experience in any of these vehicles first-hand, fill out our test drive form below and enjoy the thrills!
Book a Test Drive